Thursday, November 08, 2007
Natalie Moore at artMovingProjects
166 North 12th Street Brooklyn NY 11211
(Link)
http://www.artMovingProjects.com
http://www.ArtistOrganizedArt.org
correspondent: NY artist,
Erika Knerr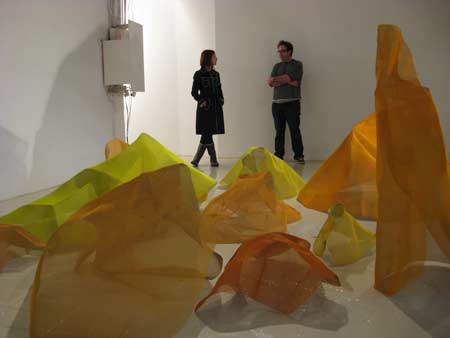 Mirage
Natalie Moore
's second one person show at ArtMovingProjects in Williamsburg, Brooklyn, titled "Mirage" is an graceful installation that rests between sculpture, painting and poetry. Layed out with a small map for viewers, of 12 individual pieces created from stainless steel wire mesh, with somewhat unrelated titles like Pompeii, Apricot, Lochness and Fire, the first impression is that the objects function together as a topography seemlessly inter-related. There is a casuallness to the way the forms are bent and molded into shape almost like a crumbled and discarded piece of paper, yet the thoughtful and alluring color is so over the edge elegant it creates an exquisite paradox.

Ms. Moore speaks of working with the idea of perception. The notion that we percieve things differently at different times. If we look at something one way it seems fixed, then suddenly we approach it from another angle and it becomes very different. Countless examples of this scenario occur in everyday life from thought patterns to political rhetoric, to just what we are seeing in and through the objects in this miraged perspective set up by Natalie Moore. Solid and opaque on one side, transparent and shear on the other, as you move around the room, moiré patterns, creating another level of drawing on the landscape are fleeting. You catch a glimpse of it and then it's gone. She attempts to create an image that goes in and out of visibility, like a mirage in the desert. T
he physical objects are smaller than human size and a curiously familiar scale and proportion that refer to large heavy rocks, yet are clearly light weight and fragile in reality, continuing the play on what is real and true and what is imagined, fantasy and false. Moore invited writer Melanie Neilson Junceau to write the statement for the exhibition that unconventionally functions as press release and only text accompanying the show. The poetic prose piece is titled, " Mirage: Morning Before the Fact," and is a dreamy revelation of associations to "Mirage."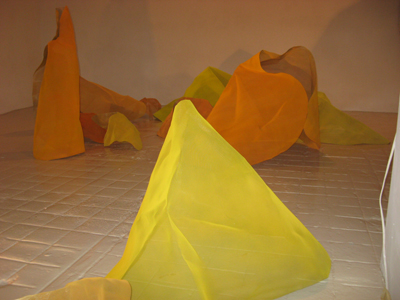 Ms. Moore's first show at artMovingProjects in 1998 was the inaugural exhibition for this artist-run space by
Aron Namenwirth
. Moore at that time had come out of running another artist initiated space called "Sauce" from 1992-95, with a small group of other artists, also in Williamsburg. It was one of the four original artist-run spaces featured in the show "OTHER ROOMS" at Ronald Feldman Fine Arts in 1995. Another was the senior artist organized venue Four Wall's which before moving to Mike Balou's garage space in Brooklyn in 1991, was founded by Adam Simon in Hoboken in 1984. The other two are the now long running Williamsburg haunts Perogi 2000 and the non-profit Momenta Art which emerged consecutively in 1994 and 1995. Like Momenta, artMovingProjects is going non-profit.
"Mirage" is a new direction for Natalie Moore's work which came as a surprise to some who know her as a digital media aficionado and professor. With the galleries often emphasis on new media art, this hands-on formal/informal approach is unexpected, but also a natural evolution from the physically conceptual installations of electrical, cable and/or computer wire that was embedded directly into the plaster walls of the spaces she was working as site specific installations. This work presented the idea of a room or house having a life of it's own; it's insides breaking out of the walls. The wires being the veins and hair of the space, pushing out of the walls and making the room itself come alive. Here she worked with combining mediums as well, working between drawing, sculpture and architecture. I look forward to where she goes from here and the role that intermedia might play.
The show is up through sunday, November 18th, 2007.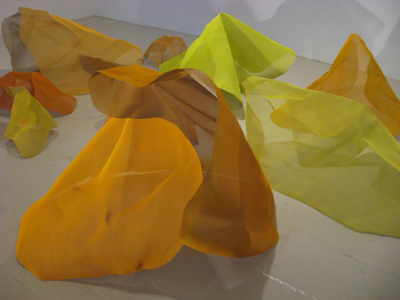 Natalie Moore at artMovingProjects