from artistorganizedart
Jason Middlebrook at RoCA
Merit Badge2
Rockland Center for the Arts (RoCA)
October 14, 2007 - May 18, 2008


correspondent, Williamsburg Artist
Carrie Waldman


"My father was an Eagle Scout in Michigan. He once told me that the only Merit Badge he didn't get was due to the fact that he didn't live near an ocean. As I grew older I knew I had two possible paths to take, follow his lead and try to become an Eagle Scout, or ignore the Boy Scouts all together. ...I never became a Boy Scout, but I did follow in my father's footsteps by becoming an artist."

-Jason Middlebrook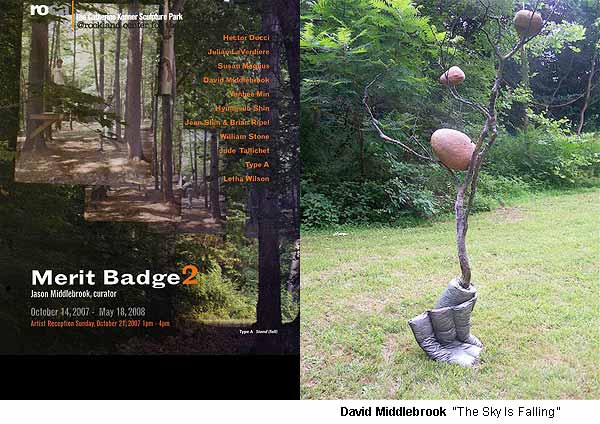 The Artists Reception Sunday, October 21, 2007 1pm - 4pm

The children, the bikes loaded into 3 cars, the trip up the palisades…is there a merit badge for family loyalty? Nepotism?

We routed our family Sunday activities to include an expedition to the Merit Badge 2 show at the Rockland County Center for the Arts. The 2 young boys in our troop immediately made like scouts and took off for the woods. The trail beckoned at the far end of a sculpture strewn field. And at the entrance to the woods hung a series of framed images on the trees. Images of trees, framed with bark branches. No, they were bark, pieces of bark from trees like those in the woods, framed with bark branches. Pieces of landscape framed by other pieces of landscape. "Woodscape" by William Stone. And off into the woods we followed.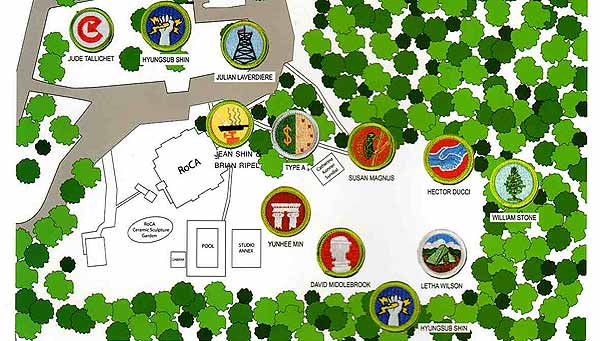 The Merit Badge Show was organized by Jason Middlebrook, a prolific and energetic artist living in the Hudson Valley town of Craryville, NY. He curated the first Merit Badge Show on his own land in Craryville. The idea of earning merit badges strongly resembles the approach of many current artists. "Scouts must follow strict required tasks to learn about subjects that they normally wouldn't investigate", says the catalogue (and then make a show about it, if you're an artist). That said, this is not necessarily the approach of the artists included, who used the theme to their own ends. Jason included his father, David Middlebrook, in the show. David constructed a poetic emblem of environmental abuse in which the sky is falling, gaining him the Sculpture Badge.
According to LYNN STEIN / ROCA Exhibition Director, David Middlebrook is a California-based sculptor who specializes in site-specific work, private and public commissions, and smaller sculptural elements. He works with a broad range of stone, marble, ceramic and bronze mediums in dimensions ranging from 50 lbs. to 50 tons. Middlebrook creates art that connects people with their cultures. He has more than 35 commissioned pieces to his credit. She includes that David Middlebrook's work, The Sky Is Falling, explores the quagmire of environmental abuses and unexplained natural phenomena portrayed here as a poetic mystery of a childhood innocence, first observed by "Chicken Little."
My brother, William Stone (participating artist,) followed his own surrealist/poetic approach to earn the Forestry Badge, with his piece, "Woodscape" (described above.) Interesting. Here's his quote:


"The landscape is the landscape. What an incredible concept Merit Badges are. They seem more Grecian than military. To earn all of them, the goal, would constitute a start on a truly liberal arts education. Perhaps they were originally intended to guide a boy to a hobby. I only earned one. I picked the one that already was my hobby, a no-brainier."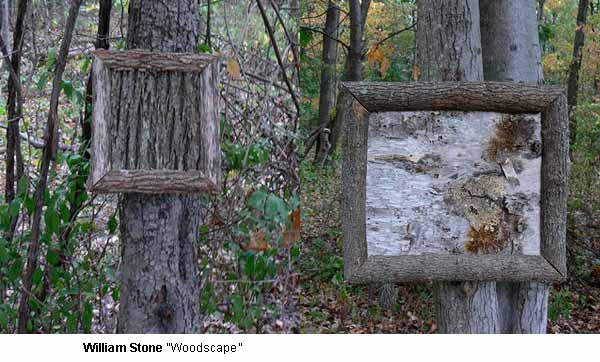 Hyungsub Shin's artificial synthesis hung from the trees like a floating upturned root system. Julian LaVerdeire's yellow rope swing most intrigued the boys, who were not permitted to follow their inclinations and swing on it. Other pieces were missed entirely in the conflict between following the map and following the boys- I guess we don't get our Pathfinding Badges for the day.

The works on display will be left to weather the winter outdoors. One imagines some of the pieces looking quite beautiful in the snow.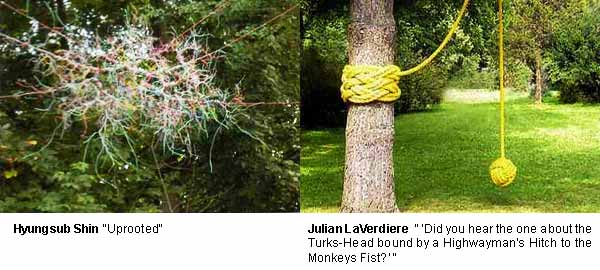 Now, there I am, an artist writing on my own brother's work, wondering why he gets more attention and noticing that my own work is orphaned in the Fine Art Adoption Network. (FAAN, a great concept for organization, see my own work in it below.) In the interest of rivalry I probably should say something more competitive, critical and monotone.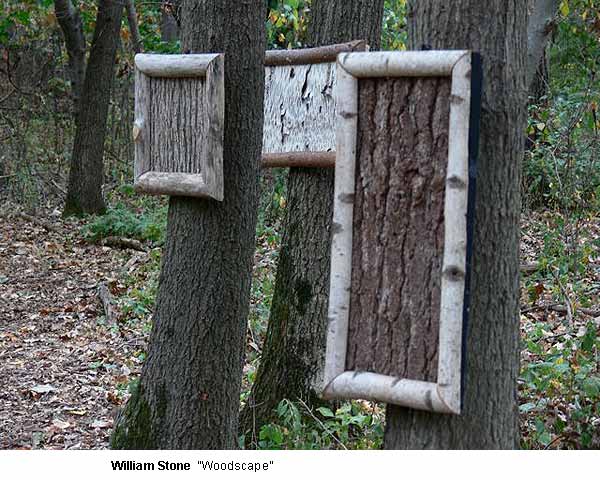 William Stone has shown his work both nationally and internationally, and has been included in recent solo exhibitions at sites such as the James Fuentes Gallery, NY; and the Art Moving Gallery, NYC. Stone's recent group exhibitions were shown at Deste Foundation Galleries, Athens, Greece; the Archivo Emily Harvey Foundation Galleries, Venice, Italy; and the Deborah Colton Gallery, Houston, Texas.

Friday, December 14, 2007
The Fine Art Adoption Network
by Adam Simon
www.fineartadoption.net
The Fine Art Adoption Network was commissioned by Art in General, NYC, as part of their New Commissions program. The web master is John Weir. We launched FAAN in April 2006.

The goal of FAAN is to help increase and diversify the population of art owners and to offer artists a new way to reach their audience. Artists post images of works they are willing to offer for adoption and potential adopters email them through the site. The artists choose an adopter from among those that solicit them. The artist receives no money for the artwork and the only costs to the adopter are whatever is required to transfer the work. Once the transaction has been completed, the artwork becomes the property of the adopter.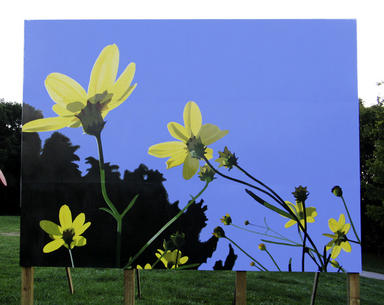 Carrie Waldman

,

More Moonbeams

, 2005. 192 x 144 inches

Since the launch of FAAN in April 2006, over two hundred artists have joined and bestowed their art, almost 1,000 people are participating as adopters, and 237 adoptions of contemporary artworks have taken place. In its first six months, FAAN recorded more than 80,000 visitors, and the audience increases monthly. Media coverage has included Art News, Italian Vogue, the Christian Science Monitor, the New York Sun and strong coverage on the internet.

What I would really like to see is FAAN expanding until it is functioning throughout the U.S. as well as internationally. If this were to happen, it would mean that we would truly have in place an alternative system for the distribution of art. Not one that is intended to replace the art market but one that serves as a necessary corrective, allowing artworks into homes without the prerequisite of purchase.

There is an interesting dialogue that naturally occurs around the subject of art adoption. It includes the art market, the relationship between art ownership and class, the degree to which artists are subject to market concerns and ideas about the concept of gift economy and its relation to art.

The art market is one of the few markets where supply is not dictated by demand. Artists continue to make art whether or not they are able to sell it. Meanwhile the market depends on an artificially created notion of scarcity of good art. The notion of rarity that the market requires depends on a small number of artists being selected from a large pool. Partly because of this, the art market can only accommodate a fraction of the art objects that are being produced. The market does a terrible job of putting art into a lot of homes.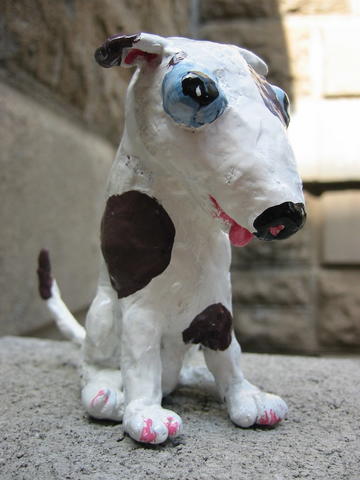 Matt Freedman

,

Lost Puppy

, 2006. 2 x 4 x 3 inches



Over 200 adoptions have taken place through FAAN in the past year. Artworks are finding homes in unlikely locations. A fifth grade class in New Brunswick, Canada adopted Matt Freedman's, Lost Puppy, an ironic site-specific work made for FAAN, as well as Perry Bard's Zone, a sculptural proposal for peace in Korea. A policeman in training adopted Cathy Quinlan's drawing of a head of the Madonna, after Duccio. Carrie Waldman's billboard-format painting, an enormous, slightly pop view of daises in a field, has been installed on the outside of a building facing the town diner (where farmers have their morning coffee) of a small town in upstate New York. No one has adopted Sheryl Oring's Writer's Block, a series of metal cages each filled with approximately 30 antique typewriters, but I believe she is waiting for an institutional adopter.








Sheryl Oring

,

Writer's Block

, 1999. 36 x 36 x 36 inches

The fact that both the artists and the adopters choose is one of the interesting features of art adoption. Ultimately though, it is the artist that chooses. Regardless of who gets to choose, a series of interactions is being initiated around the artworks. These interactions are multi-faceted and personal. For the adopters, it can resemble Internet dating. They present both who they are and the nature of their appreciation for the artwork. They are convincing artists by telling them what the artworks mean to them. For the artists, this can seem an unusual relationship to an audience. Typically in the art world, they are the ones soliciting recognition.

Art-lending institutions exist both in Europe and the United States and bartering art for services is not uncommon, but art adoption, as far as we know, is new. Both the artist and the adopter are aware of participating in something outside of the commercial norm. There is a shared sense of shaping a transaction differently, in part because they are in direct communication with each other. The art on the FAAN website is marked by its separation from expected venues. It is displayed, not as work soliciting buyers and not as part of an exhibition but as an object in a gift economy.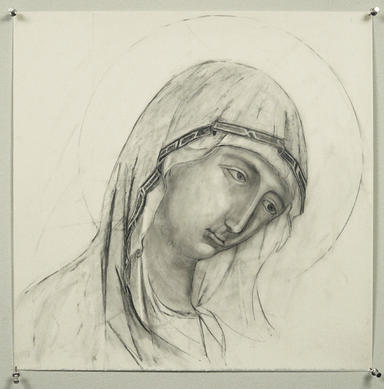 Cathy Nan Quinlan

,

Study for a Contemporary Portrait: Duccio

,
2001. 17 x 17 inches

Once a system is established as the norm it becomes difficult to look at or to look for alternatives. The art market replaced a system of patronage by the aristocracy. I don't think anyone wants to see art adoption replace the art market. If FAAN continues to grow at the current rate, it could have the opposite effect of strengthening the art market by expanding the population of art collectors. Collectors who adopted work through FAAN have gone back to the artist and bought additional work.

It is too soon to know how many artworks adopted through FAAN are reaching homes that would be unlikely otherwise to house original artworks. Potentially, we are talking about a different relationship between art ownership and class. It seems clear that the demographics of people adopting art through FAAN are wider and more varied than those acquiring art through the gallery system.

The art world is small but the world reached by the Internet is huge. Ideally FAAN will continue to expand geographically so that someone browsing the site in Boise, Idaho or Brennero, Italy will be able to find artworks both locally and internationally. The one thing the adopters will have in common will be an appreciation for what artists do.


*artists wishing to post work on FAAN should contact info@fineartadoption.net


The Fine Art Adoption Network (FAAN)


Artists selected from the online network where all of the artworks on view are available for adoption:

Matt Davis

Laura Devendorf

Danielle Dimston

Marcy B. Freedman

Ben Godward

Jill Henderson

Matt King

Dave Krueger

Jacob Rhodes

Analia Segal

Jason Simon

Tattfoo Tan



January 4 – January 27, 2008

OPENING, Friday January 4 6:00 – 10:00 pm

POCKET UTOPIA

1037 Flushing Avenue

[Just off the Morgan L, Bushwick]

Open Saturdays and Sundays 12-6 and by appointment

Call: 917-400-3869

Pocket Utopia is pleased to present an exhibition of the Fine Art Adoption Network (FAAN). FAAN is an online network that uses a gift economy to connect artists and potential collectors. Pocket Utopia will function as a clearinghouse and will facilitate the adoption process. Post-studio artist and Pocket Utopia intern Audra Wolowiec selected the works on view. The adoption of artworks between the artist and collector will be finalized through the website (http://www.fineartadoption.net/); no purchases will be made.

This exhibition of FAAN is the third in a series examining creative pocket utopias that began by opening a file at Pierogi (The Pierogi Show at Pocket Utopia in September 2007). Then in December 2007 with a show titled "Etsy," Pocket Utopia ventured into the crafty commerce of the online place to buy and sell all things handmade with the same name (http://www.etsy.com)

There will be a salon discussion held on Wednesday, January 23rd at 6:00pm where Adam Simon and FAAN artists will talk about money and its role in the art world. Refreshments will be served. This discussion is a part of Austin Thomas's salon series titled, "Excuse me, you have art in your teeth."

Pocket Utopia is an away-from center, off-center, exhibition, salon and social space run by artist Austin Thomas.


Pocket Utopia
1037 Flushing Avenue
Brooklyn, NY 11237
www.pocketutopia.com
read the blog at:
http://pocketutopia.blogspot.com/